GDRA rowers competed in all four days of the 2022 Masters Nationals regatta in Sarasota and very much enjoyed the trip! Ben Boehm had a "hot-boating" adventure on the first day when he rowed in a composite boat that won gold in the Men's Light C 4x but had rudder problems, leaving the crew unable to row it in the Men's Open C 4x soon afterward. When they returned to the dock believing that they would miss their next race, they were fortunate that another GDRA composite boat with Deb Taylor, Meg Evans, and Brian White, along with Brian Elwell from Great Miami Rowing Club, had just returned from the Mixed E 4x. The crews swapped their boats, with no time for Ben's crew to adjust the feet or make any other changes, but they won the silver medal in the Men's Open C 4x after rushing to the starting line.
Luiz Franca had a strong race, winning the silver medal in the Men's Open I 1x.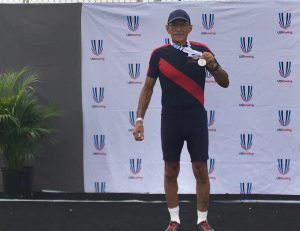 Among other highlights of the regatta, Ed Walz and his son Brandon Walz, a former GDRA junior rower, finished first in a very competitive Father/Son double race. Ben Boehm raced in a composite Mixed B 8+ that took first place, capturing the Great Eight traveling trophy for Greater Columbus. Ben also won gold in the Mixed A 2x, with Kelli Vandermoer from OKC High Performance Center, and in the Men's Light C 1x. Meg Evans and Deb Taylor took silver in the Women's Light E 2x, a fast race in which the top two boats were right next to each other all the way. All told, GDRA's rowers medaled in a total of 15 events, had a great time, and are looking forward to more adventures next year.