Last week's pleasantly warm temperatures and calm water, which brought many rowers out to enjoy the near-perfect conditions on our river, gave way to chilly temperatures and snow on Saturday morning. Our fall racing season had ended the previous weekend, November 6th and 7th, with a trip to the Head of the Hooch in Chattanooga. Ben Boehm won a gold medal (Men's Masters 2x under age 50) and two silver (Men's Masters 4x under age 50 and Men's Open 4x) while racing with composite teams.
Rough water on Saturday caused the Mixed Masters doubles to be rescheduled to the end of the day for safety reasons. Because the new schedule caused this event to conflict with single-sex doubles, some of us didn't get as many races as we had planned. Our mixed double over-50 crews did well, though, and were pleased with the results. Deb Taylor took silver, rowing in a composite boat with Don Bush from Great Miami. Brian White and Meg Evans, shown in the photo below, won bronze at the Hooch.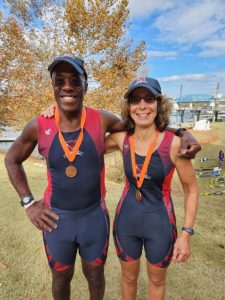 We also had several people traveling to the Speakmon Memorial Regatta in Columbus on Sunday, October 30th. Among our GDRA rowers were two recent Learn-to-Row graduates, Bethany Banakos and Laura Swope, who competed in the Women's Masters 2x and had a great time! Two of our crews medaled in the Mixed Masters 2x; they were Mike McCarty and Paula Sideras, who won first place, followed by Deb Taylor taking silver in a composite boat with Brian Elwell from Great Miami. Richard Pierce won silver in the Men's Masters 1x. Other GDRA competitors were Ryan Repasy, Brian White, and Meg Evans.
Today, with the 2022 season ending, a group of volunteers organized by our Boathouse Manager, Wilfred van Breukelen, tidied up the boathouse and got everything ready for winter. Thanks Wilfred! Our annual Jingle Bell Row, in which Santa coxes the trusty reindeer in a sweep boat, will be held this coming Saturday, November 19th, at 9:30 AM. Ho ho ho!