The Greater Dayton Rowing Association (GDRA) boathouse is on Island MetroPark along the banks of the Great Miami River, just north of downtown Dayton at 102 East Helena Street, Dayton, Ohio 45404.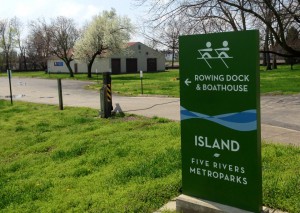 The entire island is a beautifully maintained park, operated by Five Rivers MetroParks. GDRA shares the island with a popular public park on the northern half and a water rescue squad on the southern half, just across the parking lot from our boathouse. Built in 1995, the boathouse provides a secure location for our shells, oars, and other equipment. We have additional storage space for our boats and safety launches in a fenced and roofed boatyard, and we have 96 feet of docks manufactured and installed by AccuDock. A planned addition to the boathouse will include showers, changing rooms, and a climate-controlled indoor rowing facility.
Rowing is a year-round sport. Come join us in any season! Our winter rowing program at the Downtown Dayton YMCA requires only a YMCA of Greater Dayton membership. GDRA provides the rowing equipment and instructor-led classes at no additional cost. The class schedule for the 2019-2020 winter season is Thursdays from 6:15 pm to 7:15 pm and Saturdays from 11 am to noon, with Jan Hill coaching. The Downtown Dayton YMCA is located at 316 N. Wilkinson Street, Dayton, Ohio 45402.