Rowing for Competition, Recreation, and Fitness
SWEEP ROWING AND SCULLING
GDRA's rowing program is open to both experienced rowers and those new to the sport. We support both sculling (two oars per person in 1, 2, and 4 person boats) and sweep rowing (one oar per person in 4 and 8 person boats). Learn-To-Row classes are held in May, June, and July. A free Discover Rowing event is held in June. During the winter season, we have indoor rowing classes at the Downtown Dayton YMCA.
Our fleet includes over 40 quality boats ranging from easy to row novice boats to elite quality racing shells.
More Information:
JOIN
Interested in learning to row? Contact ltr.director@daytonrowing.org.
Want to learn more at our FREE Discover Rowing event? Contact discover@daytonrowing.org.
Already know how to row? Contact membership.director@daytonrowing.org.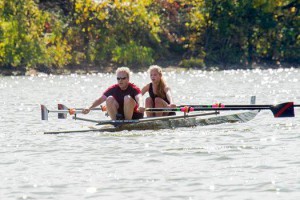 COMPETITIVE AND RECREATIONAL ROWING
Members of GDRA's competitive rowing program travel to regattas in both the spring and fall racing seasons. Participation in this program is not limited to experienced rowers. Those who are interested in learning to race at regattas also are welcome to train with us. If you are curious about what it is like to compete at regattas, give it a try sometime! Our crews are always glad to have more rowers.
Recreational rowing on the Great Miami River is a delightful way to get out and enjoy nature while also improving fitness. Our river flows through well-maintained parkland where wildlife is abundant, with many herons, beavers, river otters, hawks, and even an occasional bald eagle. We have a variety of boats to choose from, and our fleet includes many boats that are suitable for new rowers graduating from the Learn to Row program. GDRA has a Google Group that allows members to get together easily for recreational rowing by posting messages about dates and times they would like to row.