GDRA was well represented at the 2022 Secret City Head Race in Oak Ridge, Tennessee, on the weekend of October 8 and 9. Saturday's races were downstream, while the Sunday races were upstream, allowing participants to see more of the regatta's beautiful autumn scenery.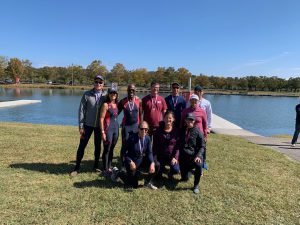 Our contingent had three recent Learn-to-Row graduates: Eric Lathrop, Wendy Lathrop, and Connie Howe. We're all very glad to welcome them to our racing team! Eric won bronze in a composite Men's Masters 4x on Sunday, Eric and Wendy rowed in the Mixed Masters 2x on Saturday, and Connie and Wendy competed in the Women's 2x on Sunday. Eric also rowed a Men's Masters 2x with Ed Walz. An impressive outing for our newest members!
Ed Walz and Denise Hauser took advantage of the opportunity to race the Mixed Masters 2x on both days, taking the gold medal in the Sunday race. Meg Evans and Brian White also competed in the Mixed Masters 2x on Saturday. Deb Taylor and Meg Evans took second place in the Women's Masters 2x on Sunday.
Racing the singles on Saturday was challenging because the wind was higher than predicted, making the course choppy. Brian White rowed a single in the morning Men's Masters race. The wind was stronger by the midafternoon Women's Masters single race, and Deb Taylor persevered to win the bronze medal. Meg Evans also rowed a single.
Other regattas where GDRA members have rowed this fall season are the Chicago River Half Marathon, the Head of the Ohio, and the Hoover Fall Classic.