Many of us enjoyed competing in head races during the fall season in 2021. We began by hosting the virtual Charlie Doyle Memorial Regatta over the weekend of September 11-12. Small contingents from GDRA traveled to the Head of the Cuyahoga in Cleveland on September 18 and to the Music City Head Race in Nashville on October 2. A larger group went to the Hoover Fall Classic in Columbus on October 9, on a gloriously warm, sunny day. GDRA also was represented at the Secret City Head Race in Oak Ridge, Tennessee, on October 16.
Our team competed at the Speakmon Memorial Regatta in Columbus on Sunday, October 31, racing several singles, doubles, and quads. Brian White, who became a rowing referee this year, drove the GDRA trailer to the venue early Saturday morning, refereed at the Blake Haxton Fall Regatta on Saturday, and then rowed in the Speakmon with the GDRA team on Sunday.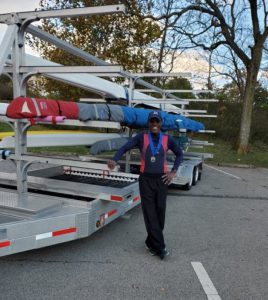 Then we traveled to the Head of the Hooch in Chattanooga, Tennessee, over the weekend of November 6-7. Going to the Hooch is a longstanding tradition for our competitive team. All of us were thankful to have the opportunity to get out and enjoy this popular race again! GDRA also was represented at the Head of the South in Augusta, Georgia, on November 13.
We wrapped up our 2021 season with the annual Jingle Bell Row on Saturday, November 20. As always, the Jingle Bell Row featured eight rowing reindeer and Santa as coxswain.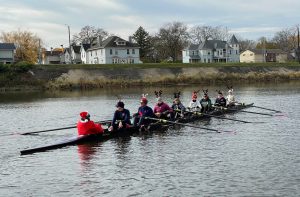 We were happy to learn that GDRA member Luiz Franca has qualified to race in the Sulamericano (South American games) representing Brazil in 2022. Luiz won gold in the men's single and double, along with silver in the men's quad. Hearty congratulations to Luiz!
Ben Boehm, our Racing Captain, will be leading winter training sessions on Zoom again this year. Check your email for Ben's message with this information. Also, the Concept2 Holiday Challenge, which started on Thanksgiving, runs through December 24th; if you would like to sign up and participate in the challenge, go to https://log.concept2.com/challenges/holiday and set your affiliation to GDRA in your Concept2 logbook.