GDRA was represented well at the 2021 USRowing Masters National Championships, held August 12-15 on Melton Lake in Oak Ridge, Tennessee. This is an excellent course, among the best in the United States, and several of us were able to participate. With so many events over four days, there were many races from which to choose, and it was great to see friends from other rowing clubs.
Our members raced in 16 events at the regatta and earned medals in three of them. Lou Franca won a bronze medal in the men's 1x. Brian White took silver in a composite men's lightweight quad. Denise Heuser, Paula Sideras, Deb Taylor, and Meg Evans got bronze in a women's lightweight quad.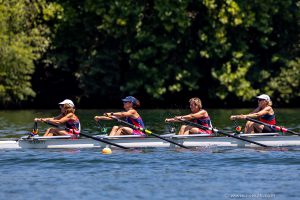 (Photo courtesy of Row2K)
Head race season will be coming up soon! Be sure to register for the all-new Charlie Doyle regatta, with a live virtual 3000-meter erg race on September 12 and on-the-water asynchronous racing (2x1500m, in opposite directions) at any time during the weekend of September 11-12.