We closed out the 2019 rowing season on the afternoon of Sunday, November 17th with GDRA's annual Jingle Bell Row, in which we decorate an 8+ like Santa's sleigh, with the rowers wearing reindeer antlers and the coxswain dressed up in a Santa suit. The weather was just right—sunny and mild, with no wind at all. The river was completely calm, and the water was clear.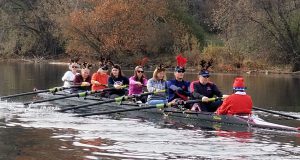 Usually we have enough people for a decorated sculling boat, as well. This year, we had eleven Jingle Bell rowers, so a double also took part in the festivities—bright red to fit the season.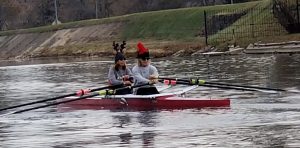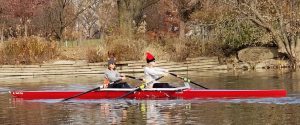 Instead of announcing "ready" by seat number as usual, the sweep team sounded off by reindeer names as the double rowers enjoyed the show. It was very entertaining!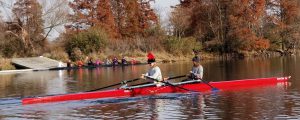 Afterward we enjoyed hot chocolate and yummy baked treats.
Many thanks to Janice Hill for driving the safety launch and taking the photos!