Our club's last regatta of the season traditionally has been the Head of the Hooch in Chattanooga, Tennessee. It is a challenging and very competitive two-day head race, with so many entries that the course often looks like a traffic jam on the river when rowers are lining up to start. So winning a medal at the Hooch is an accomplishment well worth celebrating; and Richard Pierce deserves hearty congratulations for his third-place finish (with the second-fastest raw time) in the Men's Masters 1x in the 65+ age category.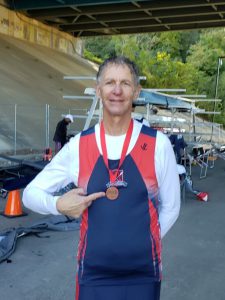 The current was extremely swift this year, so much that on the practice day on Friday, November 1, singles and novices were not allowed on the course. Conditions were somewhat better on Saturday when the regatta got underway, but the current was still fast, and the water became quite choppy with around 2000 meters left to go. Ed Walz and Denise Heuser rowed extremely well in these conditions in the Mixed Masters double on Saturday, finishing in 8th place in a race that had 48 entries.
William Turner and his daughter Julia placed fourth in the Parent/Child double, coming very close to a medal. Meg Evans and Brian White rowed in both the Mixed Masters double on Saturday and the Mixed Open double on Sunday. Mike McCarty and Denise Heuser also rowed in the Mixed Open double. Brian White competed in the Men's Masters Lightweight 1x.
Overall, we were pleased with our results; the only flaw in an otherwise excellent weekend was that there was heavy fog on Saturday morning, which caused the cancellation of our races in both the Men's Masters double and the Mixed Masters quad.
Our trailer's parking space for the regatta was under a bridge. We took a team photo behind the trailer as we were getting ready to leave.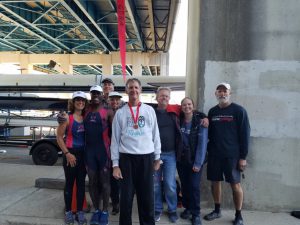 It took some maneuvering to get the trailer turned around in a tight spot, but our intrepid driver, Brian White, was up to the task; and our team and all boats arrived home safe and sound.