Linda Clemens, our Recruitment Director, organized GDRA volunteers to introduce people to the sport of rowing at the Outdoor Experience event, held the weekend of October 5th and 6th at Eastwood MetroPark. The rowing machines at GDRA's tent were very popular!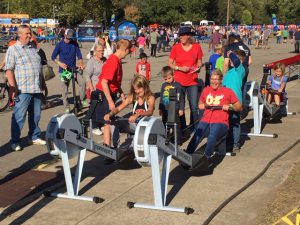 Linda's report is below. She wrote:
Wow, what a weekend! Our site at the Wagner Subaru Outdoor Experience had plenty of room for a big tent, four ergs, a large scoreboard, plus two boats. A steady flow of kids and adults tested themselves on the ergs, looked at the boats, and chatted about rowing. It was just super fun to introduce folks to the erg, and watch both kids and adults check out their scores. There was even a friendly rivalry among Five Rivers MetroParks staff.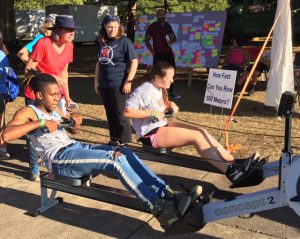 GDRA volunteers handed out Learn-to-Row postcards and gathered contact information from people who said they would like to learn to row in the spring. Here are the numbers:
– 150 adults on the ergs
– 290 kids on the ergs
– 70 adults signed up for LTR information
– 21 GDRA volunteers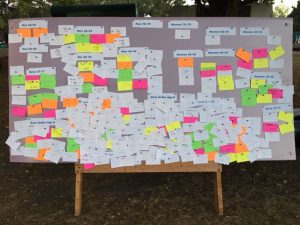 Our GDRA volunteers were fantastic. There was a lot of setup and tear-down, and the volume of visitors kept us all hopping. A big shout-out to Colleen, Stephanie, Amandea and Moe… it was great to get help from the LTR class of 2019.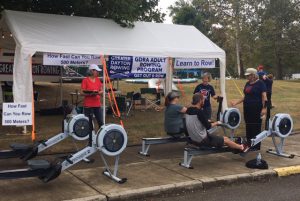 Thank you to Doug, Ed, Jan, Wilfred, Colleen, Jim, Mike, Karen, Richard, Stephanie, Paula, Amandea, Moe, Patty, Fran, Peggy, Carol, Denise, Pete and Lorna for volunteering and making this event a success.
Regards,
Linda Clemens
Recruitment