Our team had a good trip on Saturday, June 22, to the Indy Summer Sprints regatta at Eagle Creek. The water was quite calm, although that venue often can be windy. Thunderstorms in the area passed harmlessly to the south. Overall, the weather was excellent.
Richard Pierce took second place racing a single. He later commented in an email to our rowers' list that traveling to a regatta is a great learning experience, and even a bad day rowing is better than staying at home and cutting the grass.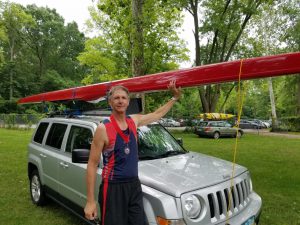 Brian White (who agreed with that sentiment and got the lawn mowed on Friday) and Meg Evans placed third in a double. A fun time was had by all.
Eagle Creek is only a two-hour drive from Dayton, making it easy for our rowers to attend races there. This October, on Saturday the 5th, the Indianapolis Rowing Club will host the Head of the Eagle regatta at the same venue.