GDRA's Discover Rowing Day on Saturday, May 11, was a success! We had an excellent turnout, welcoming 27 visitors who were eager to learn more about rowing. A committee led by Linda Clemens, our Recruiting Director, organized our volunteers and made sure that we had plenty of experienced rowers available to coach and assist visitors. Several of our rowers commented that they enjoyed helping and were glad to have had the opportunity to take part in the event.
With so many volunteers available to row team boats, our visitors could choose between sweep and sculling. Some enjoyed their first experience of rowing so much that they wanted to do both. There were plenty of smiles and cheerful remarks. The event began by taking the Millennium 8+ out on the water, letting visitors feel the power of a big sweep boat.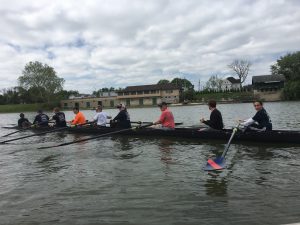 Sculling was popular too—we had three quads on the river at the same time. The day started out a bit chilly, but it soon warmed up as the sun came out in a lovely blue sky, giving us perfect weather for the event.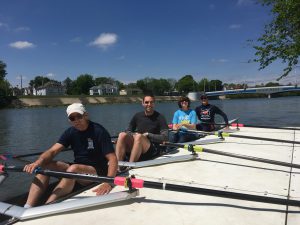 Our visitors had so much fun that several of them signed up over the weekend to take Learn-to-Row classes. In fact, we had to increase the size of the upcoming class to accommodate the large number of people interested in enrolling. Fantastic! Many thanks to our organizing committee and all the volunteers.