GDRA began hosting a regatta in 1995, a head race with a 2000-meter course on the Great Miami River between the I-75 and Helena Street bridges. Originally known as the Five Rivers Fall Regatta, it was renamed the Charlie Doyle Memorial Regatta in honor of founding member Charlie Doyle, who passed away in 2007. The regatta was held every year through 2016. After that, construction work in 2017 to replace the Helena Street bridge and, in 2018-2019, to replace the Keowee Street bridge left the regatta on hiatus.
When we returned to hosting the Charlie Doyle Memorial Regatta in September 2021, it became an all-new, virtual event, and we were glad to welcome rowers from all over the world to enjoy racing with us!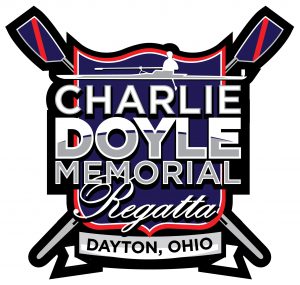 The new regatta offered two options for virtual competition: live racing on Concept2 rowing machines (requiring a PM5 and the free ErgRace app) and asynchronous racing on the water. The live portion took place at a scheduled time, with a live announcer on Zoom, enabling competitors to see each other. Rowers could do the asynchronous portion on their own schedule and at their own venues on the designated weekend.
The virtual regatta had a 3000-meter distance. For live racing, there were also team events (2x and 4x) in which team members rowed a total of 3000m, and another live racing option was a 500m 1x event. In the asynchronous racing option on the water, rowers raced 1500m in one direction, turned around, and raced 1500m in the other direction, thus doing one piece upstream and one piece downstream; rowers had to start the second piece within 5 minutes of finishing the first piece.
Competitors could participate in both options and could compete in as many events as they were eligible to enter. When making entries, competitors chose from the categories of Junior, Junior Lightweight, Open, Open Lightweight, Masters, and Masters Lightweight.
Winners for each event live category received a custom Dunkin' Donuts gift card with the event logo, winners, name, event, and winning time. The top three finishers in each live and asynchronous event received a virtual certificate in .pdf format.
After expenses, a donation of 25% of the proceeds from this regatta went to the Dayton Children's Hospital.
For more information, contact regatta.director@daytonrowing.org