GDRA is offering regularly scheduled virtual erg sessions on Zoom starting Thursday, April 9, 2020. Organized by Ben Boehm, the sessions will be held at the following times:
Mondays: 5:30am
Tuesdays: 12:00pm
Thursdays: 5:30 pm
The workouts will follow the Pete Plan, which provides 6 workouts each week. The first one will be on Monday, the second on Tuesday, and the third on Thursday. Those who want to do some or all of the other workouts can do them individually.
An ergatta may be scheduled at some point, depending on how much interest there is.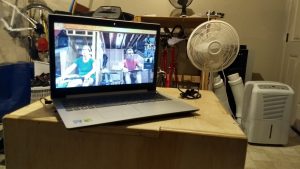 (Photo: Linda Clemens and Doug Barker erging at home)
If you'd like to participate in these virtual sessions, check your email for Ben's recent message to GDRA members, which contains the Zoom joining information. Questions? Email president@daytonrowing.org