GDRA was represented at the USRowing Masters National Championship regatta held August 15-18 in Grand Rapids, Michigan. On the first day, Meg Evans rowed a lightweight single.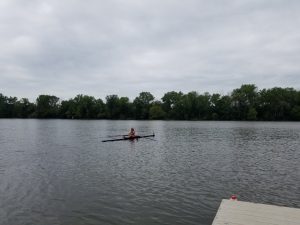 Brian White, wanting more than just one lightweight event, rowed his single twice on Friday, in both his age category and the one below. Here's a photo taken at the start of his first race (dark green boat to the left).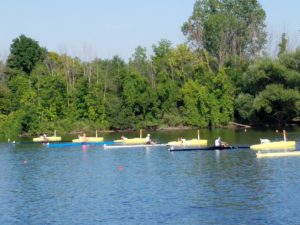 On Saturday we rowed team boats (double and quad). Thanks to Bob and Karen Symonds of Wichita for taking part in a composite quad; it was lots of fun!
The weather was pleasant during most of the regatta. Unfortunately, thunderstorms blew in on Sunday and cancelled the afternoon's racing; but by then we already had finished our events and were packing up for the drive home.