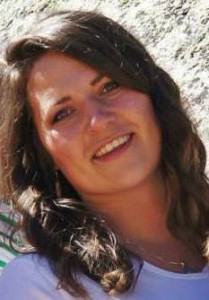 Abigail Beach
Head Coach, Youth Program
Contact Abby: youthcoach@daytonrowing.org
Abby learned to love rowing at the GDRA boathouse. She was voted M.V.P. and Team Captain her senior year and began coaching Learn to Row. She chose to row D1 with the University of Cincinnati. She came back to coach another summer for Learn to Row and Rookie rowers at GDRA. While attending UC, she also worked in the athletic administration office gaining knowledge of collegiate athletics systems. She finished her time with UC Women's Rowing by stroking the Varsity 8+ in it's final season as a Varsity sport in 2007. Upon graduation with a Bachelor of Arts in Personnel & Industrial Relations, she began her career recruiting, then moved to an HR Manager position training and developing staff. After 7 years in Human Resources, Abby took on the GDRA Youth Program's Head Coach position at the tail end of 2014. The team has grown in size and speed in this time with the help of wonderful coaches and zeal of the athletes. In her free time, she enjoys going on adventures with her family, gardening, cooking, and crafting. She lives in Kettering with her husband Dave, children Jonah and Cleo, dog Griffin, and crazy cat Fox E. Beach.
Benjamin Sobiech
Coach, Youth Program
Ben grew up in Westerville, Ohio where he attended Westerville North High School. During his time there he was a two-time Central District qualifier for the wrestling team, and began his rowing career his freshman year. He rowed all four years for Westerville Rowing Club and found his love for the sport of rowing. After high school, Ben continued his rowing career at Mercyhurst College, where he competed for two years in the Varsity Men's 8+. Following his sophomore year, he elected to leave Mercyhurst and enlisted in the US Navy as a reservist. After boot camp, Ben returned to Westerville and began coaching for Westerville Rowing Club, as well as Denison University Crew. In 2012 and 2013, he did a year mobilization in Afghanistan. Upon returning to Ohio, Ben moved to Dayton, where he works at Wright-Patterson Air Force Base. After a happenstance meeting with Coach Abby, Ben began coaching for GDRA in August of 2015. He is extremely happy to have found a club so close to his home where he can continue giving back to the sport that has given him so much. Ben lives with his wife Candice, her son Tyler, and their three dogs, Scarlet, Stitch, and Sid.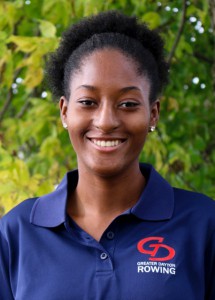 Destinee Hamilton
Coach, Youth Program
Raised and brought up by her paternal grandparents, Destinee attended Dayton Public Schools Miami Chapel, Wogaman, and Stivers School for the Arts. While attending Wogaman Destinee placed 2nd in the State Finals MLK Oratorical contest. She took what she learned playing the clarinet and auditioned for Stivers School of the Arts where she became an accomplished bass clarinet player. Playing in the renowned Stivers Orchestra, Band and Wind Ensemble, she became an accomplished musician. Athletics also played a major part in her life as she was a four year letter for the Stivers Swim Team.
During her Freshman year at Stivers, Destinee joined the Greater Dayton Rowing Club where she quickly became one of the most prolific medalists in the club's history setting a record in the 2014 Indoor Rowing Competition. She set a record with three First Place Medals at the annual Charlie Doyle Memorial Regatta held each Fall at the Great Miami River at Island MetroPark. Destinee qualified for the nationals two years in a row and at the 2014 US Youth National Championship held in California, Destinee and her crew mate Madison Higham placed 2nd in the Light Weight Double C Finals. Until 2015, this was the best showing of any Greater Dayton Rowing team ever. As a result of her outstanding career as a crew member with Greater Dayton Rowing, she was offered a job as Assistant Coach and she accepted. This honor distinguished Destinee as the youngest African American coach in US Youth Rowing, a national organization with thousands of members throughout the United States of America. Currently, Destinee is a student at Sinclair Community College, majoring in Political Science where she is learning to make a difference.
Dr. Denise Heuser
Coach, Youth Program
Denise's commitment to the Greater Dayton Rowing Association and to the youth program spans many years. She has earned US Rowing's Level III Coaching Certification. She is a practicing Chiropractor and her knowledge of the human body and its movement has been invaluable to the youth program. She is a ferocious athlete and has been known to run, swim and bike while training for an Iron-Man while still rowing, coaching and maintaining her family and friend relationships. Her love for the sport is apparent to each and every novice rower that she coaches.
Denise and her husband David live in Dayton.
Ben Boehm
Coach, Youth Program
Lt Col Ben Boehm is stationed at Wright-Patterson Air Force Base.
Ben was our GDRA Junior Boys coach from 1999-2002. The team medaled at Midwest Junior Championships, and took a double to represent the US at the Junior Pan American Regatta in Mexico City. He earned US Rowing's Level III coaching certificate at that time.
Ben trained under Igor Grinko, a US National Team coach, with his team in Augusta GA. During that time, he raced (with fellow GDRA member Dave Roberts) in the 2003 Pan American Games trial and the 2004 Olympic Trials. In three trips to the Masters National Championships, he has won 5 national championships, 2 silver medals, and a bronze medal.
Ben coxed for one year and rowed for 3 years at MIT, racing in the Eastern Sprints League against Harvard, Yale, Princeton, among others.
Santiago Martin
Coach, Youth Program
Santiago was born in Esquel, Chubut, Argentina. He began rowing at the age of 14 with Club Regetas Concordia and competed in the Nationals while there. Immediately after this, he joined the Argentine Air Force and traveled many places. In 2010, he was transferred to Cordoba. While on a morning jog, he found a very small rowing club (Asociacion Cordobesa de Remo) with only 20 rowers and joined right away! He began coaching and recruiting for the club. By the end of 2013, the club had grown to 250 members! Soon enough they reached Nationals in 2013 and 2014. He has coached Adults, Juniors, as well as Adapted rowing for those with disabilities. In 2014, the Argentine Air Force sent Santiago to Wright Patterson Air Force Base to earn his Masters at the Air Force Institute of Technology. He found GDRA and has been an effervescent member ever since! He currently lives in Huber Heights with his wife Valeria, and children, Santiago Nicolas, 19, Maria Victoria, 16, and Luisina, 7.