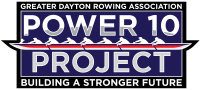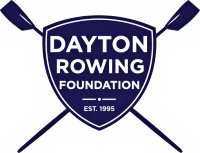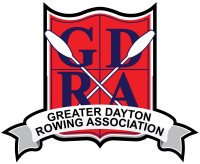 THE POWER 10 PROJECT
The Power 10 Project is a master plan to address the future potential of Greater Dayton Rowing Association and its rowing programs. This effort is in partnership with the Dayton Rowing Foundation, Five Rivers MetroParks and the City of Dayton.
The Power 10 Project master plan defines four phases of future development:
Phase One: Waterfront Improvement and Dock Replacement
Phase Two: Greater Dayton Rowing and Fitness Facility
Phase Three: River Enhancement (North of I-75)
Phase Four: River Enhancement (South of Island Metro Park)
Phase One: Waterfront improvement and dock replacement project—Docks are essential to access the Great Miami River and to support the programs provided by the GDRA. The GDRA docks were built by its members in 1994 and are now in need of replacement.
In conjunction with this effort it is planned to clear and enhance the waterfront area southwest of the boathouse and to relocate the docks to a location closer to the boathouse.
Phase Two: Greater Dayton Rowing and Fitness Facility—Having a new Greater Dayton Rowing and Fitness Center would centralize the year round GDRA programing at Island MetroPark as well allow the programs to grow to include winter fitness programs for the community, coaching seminars and clinics, expanded regatta schedule and more! We believe that these new facilities will allow is to continue our work to insure that GDRA is positioned to best serve the community and the sport of amateur rowing, and to continue to offer
Dayton's youth with access to healthy recreation and educational opportunities and it's adults with a healthy lifestyle activity that takes advantage of the Great Miami River for many, many years to come!
Core benefits:
Expanded equipment storage
Indoor fitness facility
Meeting spaces
Restroom and shower facilities
River viewing platforms
Donations are still being accepted for this effort.
If you would like to contribute please contact Wilfred van Breukelen at wgvanbreukelen@hotmail.com
Phase Three: River enhancement project—Phase three includes plans to expand the length on navigable river an estimated 1000m north of the I-75 overpass. The Power 10 Committee is working with the Miami Conservancy District to obtain proper permits for dredging this portion of river to a consistent depth making it safe to row all the way up to the railroad trestle.
This improvement will add 40% more river length to our current course.
 Phase Four: River Enhancement Project—Phase four is a long term vision that would benefit the entire Miami Valley with increased recreational water as well as removal of a potentially hazardous low dam. This low dam is also a navigational barrier to anyone wanting to travel south of Island MetroPark on the Great Miami. Plans would call for replacing the current low dam with a weir/water feature structure at Deeds Point which would create a deeper lake environment behind it and also allow paddling access to the Mad and lower Great Miami Rivers.
The benefits of this phase would include:
Additional 15,000m of navigable river. Increase the rowing course to 5,000m.
Increased access and visibility of rowing and other water activities in Dayton.
Create the potential for a 1,000m sprint course and potential spring regatta event.
---
If you would like to help with the Power 10 Project
Jim Wall, GDRA President
Jon Daugherty, Director of Strategic Planning
Destinee Hamilton, Administrative Secretary for the Dayton Rowing Foundation (DRF)
---
To make a tax deductible contribution towards these efforts you can send a check to:
The Dayton Rowing Foundation
9697 Clyo Rd.
Dayton Ohio 45458