GDRA Competitors Rock! Juniors and Adults….
May 22, 2016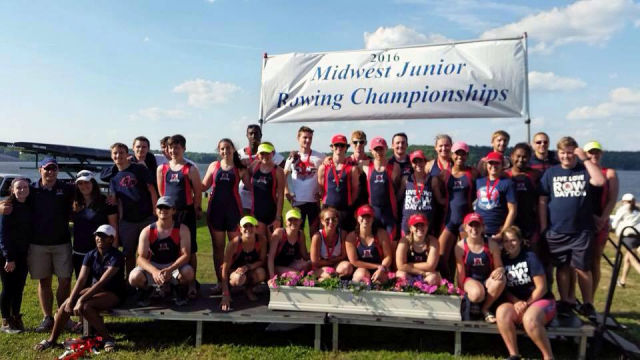 Outstanding performances this weekend with the Juniors competing at Midwest Regional Competition at Harsha and the Adult team at the Dogwood Masters Regatta in Oak Ridge, TN.
The Juniors raced last Saturday and Sunday at Harsha, the Midwest Regional finals determining selection to compete at Junior Nationals in June.
GDRA rowers performed admirably. Saturday featured 10 events for our juniors, with rowers in 6 events advancing to Finals! Girls 1st Varsity 2X finished 4th; Girls 2nd Varsity 2X took Silver and Bronze medals! Girls Novice 4X Silver Medalists! Boys Novice 4X also Silver! Two finalists in Girls 2nd Varsity 4X finished 2nd(yet another Silver) and 4th; AND the GDRA Ltwt Boys Varsity 2x (Spencer Mullins and Brone Olt) took the Gold Medal in their final and secured a bid to Junior Nationals!!!
Sunday continued to display GDRA rowing prowess, with 10 entries in 7 events and 7 crews progressing to their respective Finals. Racing conditions deteriorated as the afternoon progressed with whitecaps and rough water.
Megan Hinkle took 4th in the Girls Varsity 1X; Eric Towe placed 6th in the Boys Varsity 1X; All three GDRA crews in the Girls Novice 2X made the finals, finishing in 3rd, 4th and 6th respectively! Boys Novice 2X final took the Bronze medal; and the GDRA Girls Varsity 4X took a Silver medal and again qualified for Junior Nationals! Congrats to Megan Hinkle, Kayla Eads, Emilee Koenig and Julia Turner!
GDRA Masters likewise had great success at the Dogwood Regatta in Oak Ridge: everyone on the roster came home with medals. Doug Barker, Linda Clemens, Brian White, Meg Evans, Jamie Duck, Denise Heuser, Michael McCarty and Ed Walz and Janusz Kossek competed in singles, mixed doubles, mens and mixed quad events.
Outstanding conditions and great competition.
---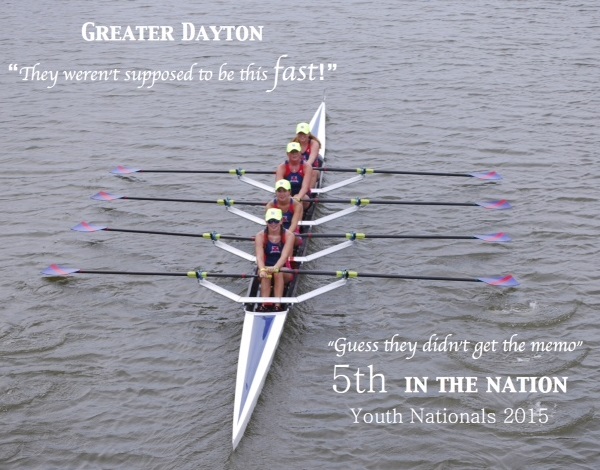 Greater Dayton Rowing Association
Women's Quad 5th Place in the Nation at the
2015 U.S. Youth Nationals in Sarasota, Florida.
Women's Single 8th Place.
Men's Lightweight Double 20th Place.
See photos below.
U.S. Youth Nationals Women's Single, 8th Place: Megan Hinkle

June 13, 2015

U.S. Youth Nationals Men's Lightweight Double, 20th Place: Brone Olt and Spencer Mullins

June 13, 2015