The GDRA Boosters is an all volunteer organization formed to support and develop the Youth Program. The Boosters is run and organized by Greater Dayton youth rower parents, alumni and community supporters.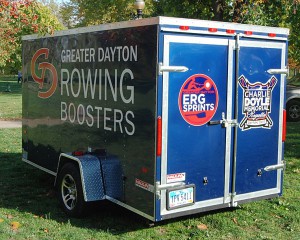 The goals of the Boosters are to organize and coordinate various activities through-out the year that help and support the team. We do this by working with the coaches to support their vision by coordinating fundraising opportunities to purchase rowing shells, oars, indoor rowing machines and other essential equipment. We organize all food preparation at regattas. We offer transportation and lodging information for the regattas. We host an indoor erg race in January and an annual Youth banquet held in mid-June. With out the considerable support of the Boosters, the GDRA Youth Program would not be able to operate.
The Booster Club is organized as a number of Committees and a Board that provides oversight. The Boosters organize a meeting each season that provides a forum for parents to learn about a wide variety of Booster volunteer opportunities. Please become active in the Boosters by offering your time and talents to build our program to be The Best!
NEW! Download a copy of the Parent Guide To Rowing 8-2015